Domestic violence is a persistent issue across the country—one that has increased during the COVID-19 pandemic. According to the National Coalition Against Domestic Violence (NCADV), 10 million people per year are physically abused by an intimate partner, with 1 in 4 women and 1 in 9 men experiencing some form of physical violence by an intimate partner in their lifetime. Technology can play a critical role in safely monitoring perpetrators of domestic abuse and providing their victims with a sense of control.
SCRAM GPS® provides superior location monitoring for domestic violence caseloads and is a useful alternative to incarceration, helping officers effectively supervise clients while enhancing victim and community safety.
GPS Monitoring—A Beneficial Solution
GPS location monitoring can be a powerful tool to supervise pretrial, probation, and parole clients. Not only does it provide community corrections officers with the ability to oversee the movements of their clients, but participation in location monitoring programs can also have positive impacts on the clients themselves.
One study demonstrates that location monitoring programs may provide structure to these clients' lives by encouraging them to abide by schedules and reporting rules and reinforcing time management skills. Additionally, by participating in GPS monitoring programs, clients may have opportunities to join intervention or anger management programs on their own accord, strengthen relationships with friends and family, and remain actively employed.
For high-risk domestic violence caseloads, SCRAM GPS is a superior location monitoring solution aimed at keeping clients compliant while providing victims with added peace of mind. With revolutionary tamper technology, false alerts are virtually eliminated and notifications are provided almost instantly so officers can act quickly. The industry-leading strap design and long battery life encourage client compliance, and innovative software tools help officers quickly identify and address issues in their caseloads.
SCRAM GPS software is very user-friendly and a huge time-saver. It means we can spend more time on the road doing compliance checks and making sure clients are doing what they are supposed to.

– Lt. John W. Mitchell, Brown County Sheriff's Office, Brown County, WI
Supporting Domestic Violence Victims
Not only is GPS an effective supervision method for clients, but it is also beneficial for domestic violence victims. Research shows that some victims may experience added comfort knowing that their abuser is being monitored. This relief may assist the victim in reimagining their future; many return to school, pursue a new career, and generally seek more independence.
An article from the Journal of Offender Monitoring concludes that domestic violence victims benefit the most from a GPS program when they are informed about the program's capabilities and limitations; when their concerns are heard (particularly in determining exclusion zones); and when agency staff periodically check-in and update them.
Victim Notification—Added Peace of Mind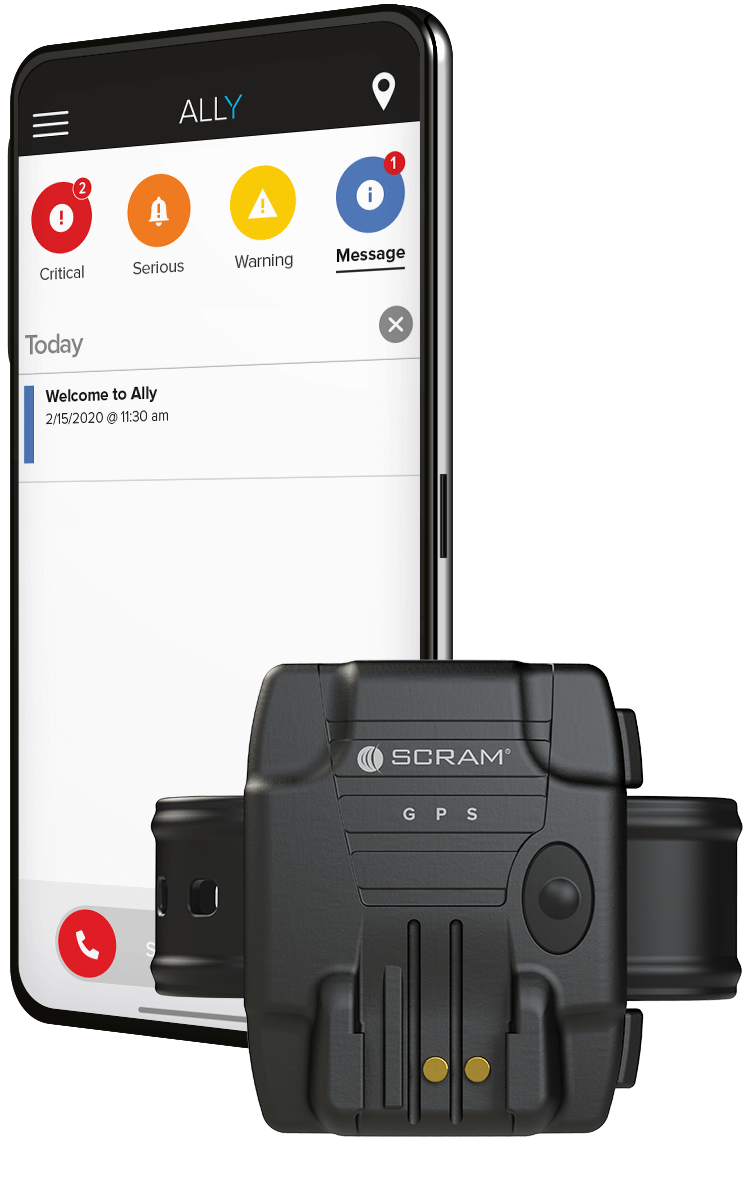 However, many GPS location monitoring programs only provide supervision for the client. For victims of domestic violence, knowing their abuser is being tracked with a GPS bracelet may not be enough. Having the option for more transparency into the perpetrator's travel behaviors and GPS bracelet activities may help provide victims with an increased sense of comfort.
The SCRAM Ally® Victim Notification mobile app works in conjunction with SCRAM GPS to ensure that when a GPS client is in proximity to the victim's phone, both the victim and supervising authorities are notified.
With features like proximity alerts, additional notifications like low battery or tamper alerts, and a panic button, the SCRAM Ally mobile app may help provide peace of mind for victims—an important step in their recovery.