Alcohol-involved clients need more than a one-size-fits-all solution when it comes to supporting their sobriety. With so many different technologies available, it's important that courts and agencies understand all the facts when determining which alcohol testing method to assign to each individual client. Read on to learn the differences between EtG testing and continuous alcohol monitoring technology.
EtG—Sobriety Isn't Black and White
An EtG (ethyl glucuronide) test is a widely used alcohol testing method, and is used to detect ethyl glucuronide, a breakdown product of alcohol, in the urine. This type of test simply provides a "yes or no" result—was there alcohol in the client's system or not? Because of this, EtG testing can't be correlated to the measurable test results of blood or breath testing. Other testing methods can offer critical quantitative testing data that can be used to better manage outcomes and client compliance.
Additionally, EtG tests do little to help determine a client's drinking patterns and savvy clients can easily figure out their testing windows and find ways to drink around testing schedules. Ethyl glucuronide doesn't stay in a person's system for long and is generally metabolized within 24-80 hours, making EtG a weak option when measuring alcohol abstinence.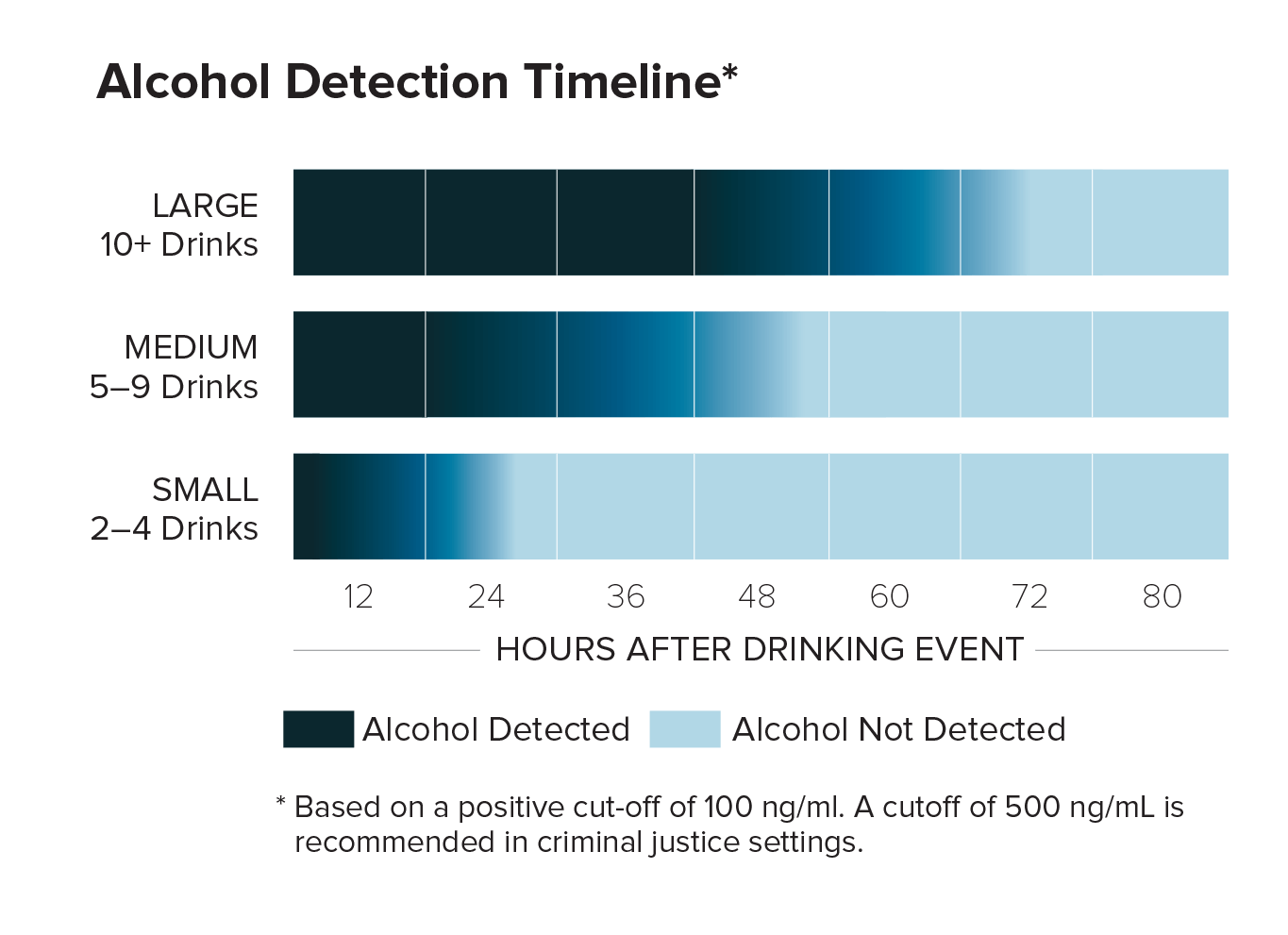 Drinking Data with Continuous Alcohol Monitoring
Like a "breathalyzer for the ankle", the SCRAM Continuous Alcohol Monitoring® (SCRAM CAM®) bracelet attaches to a client's ankle and automatically samples the wearer's perspiration every 30 minutes. The SCRAM CAM device eliminates testing gaps by continuously monitoring clients for alcohol use, unlike a scheduled EtG test.
The bracelet can also detect the difference between ingested alcohol and environmental alcohols like perfume, hand sanitizer, environmental "fumes", and more. The success of SCRAM CAM is measurable and documented by the largest body of peer-reviewed research, and test results are single-source admissible, backed by decades of court-validated hearings.
Unlike EtG testing, SCRAM CAM closely monitors drinking and tamper events, so supervising officers can gain more impactful data on a client's drinking patterns and know if they are attempting to circumvent testing. Without having an opportunity to drink around an EtG testing schedule, clients can further focus on their sobriety. In fact, 99.2% of SCRAM CAM clients are compliant on any given day, and 75.7% of wearers remain sober and complaint throughout their entire monitoring period.
Daily Client Compliance During SCRAM CAM Monitoring*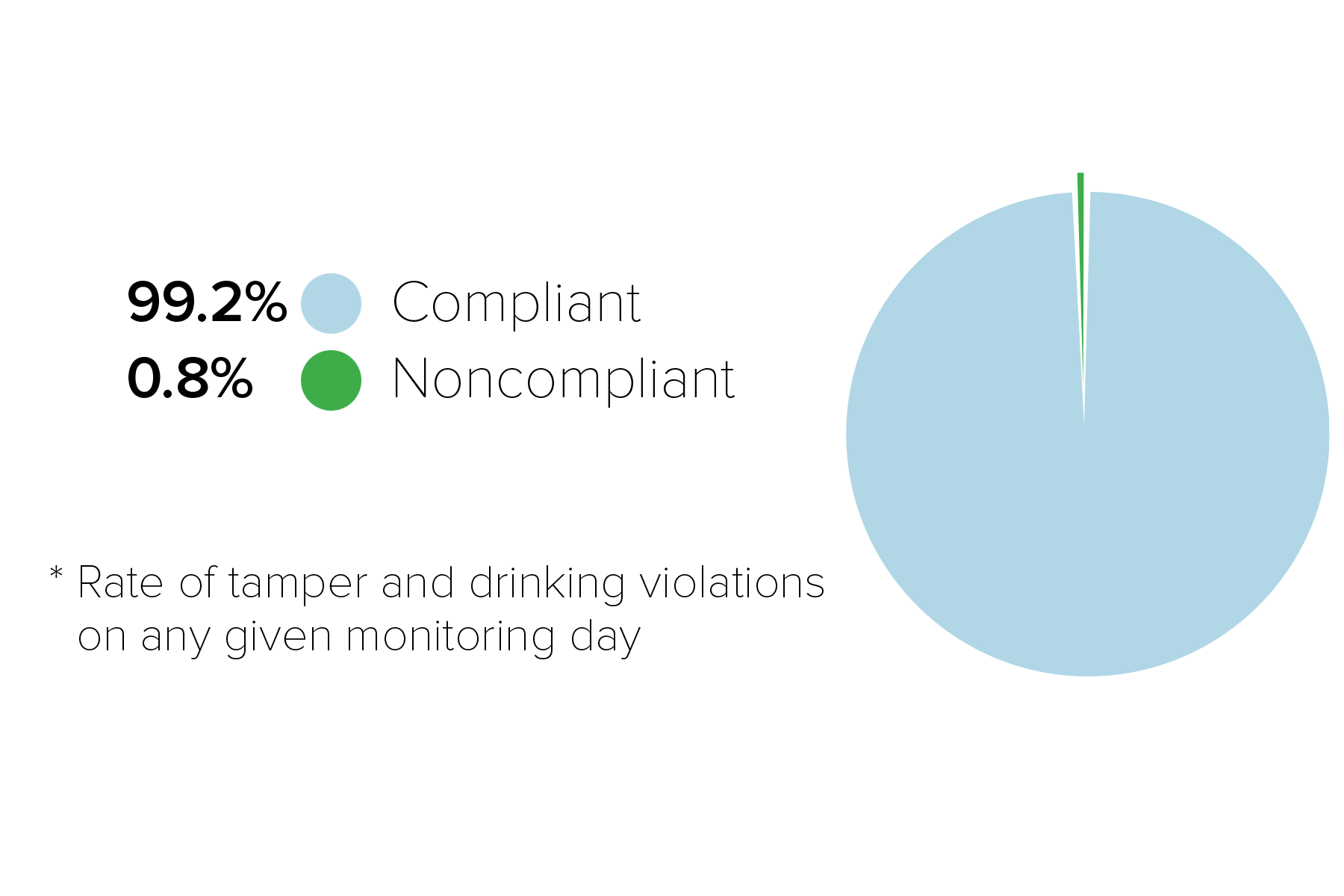 Overall Client Compliance During SCRAM CAM Monitoring*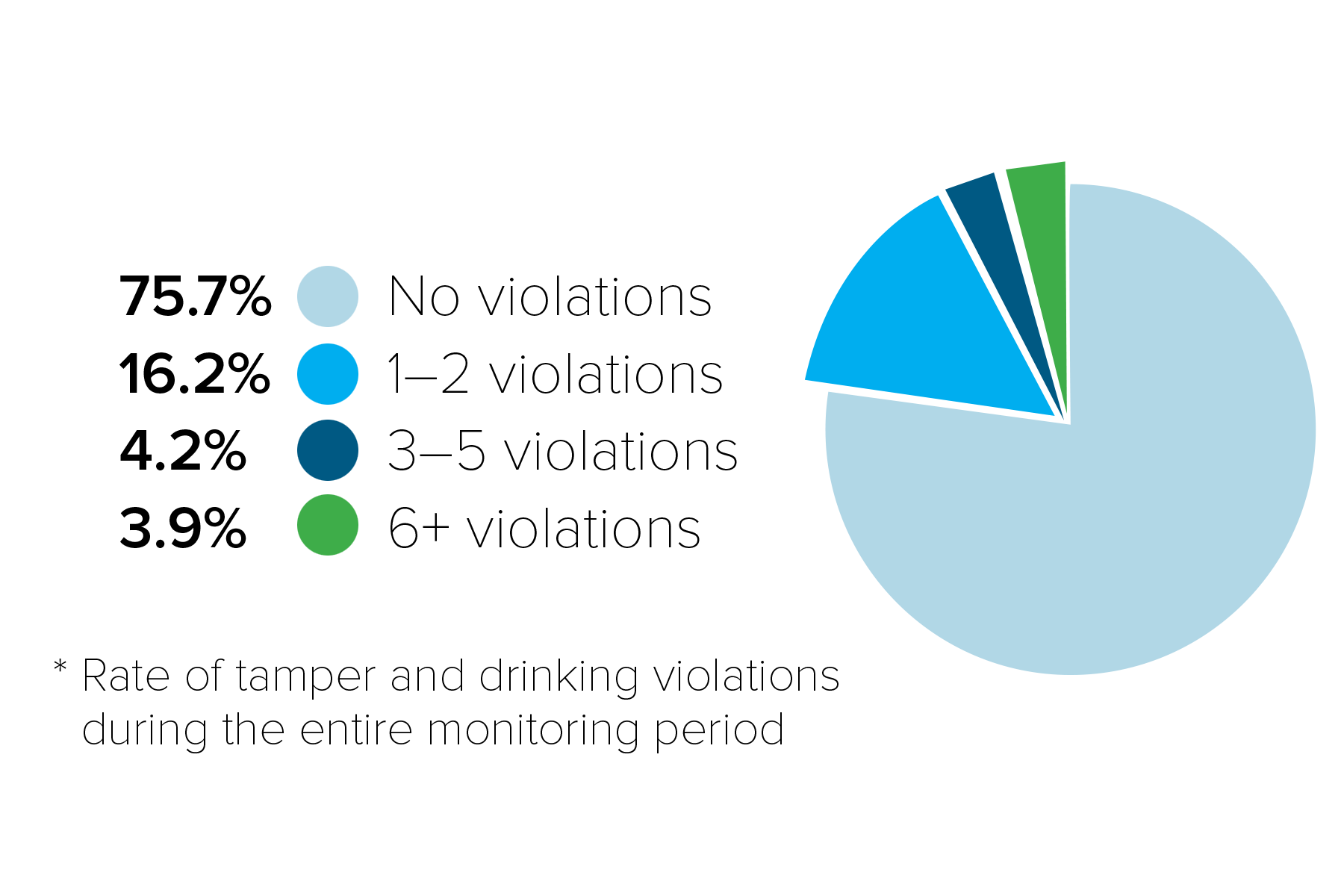 SCRAM CAM—The Stronger Solution
EtG testing may be suitable for some clients, but even for clients that consume many drinks, alcohol may no longer be detectable in an EtG test as early as 48 hours after consumption. But, by monitoring clients 24/7 with the SCRAM CAM bracelet, clients are more likely to stay sober and compliant since they know they are being continually tested for alcohol use.
SCRAM CAM is the best option for supervising individuals who struggle with alcohol abuse and addiction and need around-the-clock monitoring. SCRAM CAM not only supports their sobriety but also helps community corrections departments improve public safety.
SCRAM CAM made sure that I have accountability, and that has really helped me move on with my life.

SCRAM CAM Participant