State laws typically allow courts to impose curfews on criminal defendants as a condition of pretrial release or successful discharge from probation. Curfew violations can result in the termination of a client's pretrial release bond or the revocation of probation.
SCRAM TouchPoint® for curfew management is an affordable, standalone monitoring and engagement tool designed to provide clients with an easy, user-friendly way to complete on-demand or scheduled location checks and check-ins right from their smartphone. These location checks and check-ins become verifiable court and probation records without any need for a supervising agent to listen to voicemails, check emails, or handle live participant calls.
Tools to Streamline Curfew Management
SCRAM TouchPoint provides several features to help streamline curfew management while simultaneously saving agency time and resources.
Scheduled Location Verification allows supervising agents the ability to set scheduled check-in times to ensure their clients are at work, AA/NA meetings, at home, etc. Agents will receive a GPS point and client photo with each check-in to verify the client's location. Officers can then immediately take action if the client is not where they're supposed to be or if a location verification request is missed.
Automatic Facial Authentication detects and compares the client's enrollment photo to every subsequent check-in photo, which helps reduce non-compliance and circumvention attempts while increasing the likelihood of successful probation completion. The embedded automatic facial authentication software increases productivity for the agent by immediately processing the location verification check-in photos if correctly matched. In the instance of an inconclusive image or when photo circumvention is identified, the system will provide an automatic alert to the officer or agent.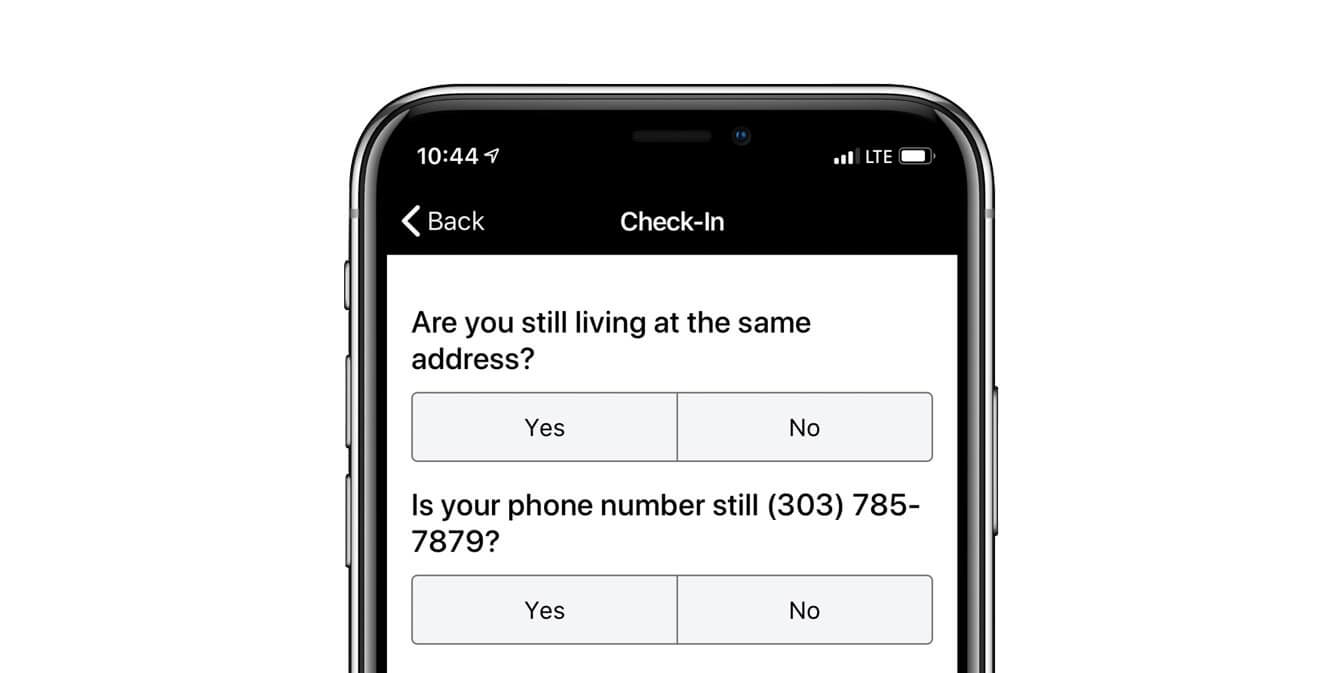 On-demand Location Checks can be triggered at any time and provide agents with instant supervision access. Clients must answer a series of questions selected by their supervising agent and verify or submit updates on key information such as current residence, employment, and contact with law enforcement. The app also records a GPS location and client photo with each check-in to give agents additional insight into a participant's response.
Secure, Real-Time Messaging allows agents to use text-like messaging to contact clients in real-time. These messages facilitate effective communication between agents and clients while providing an intuitive and modern method for clients to stay in compliance with their supervision requirements.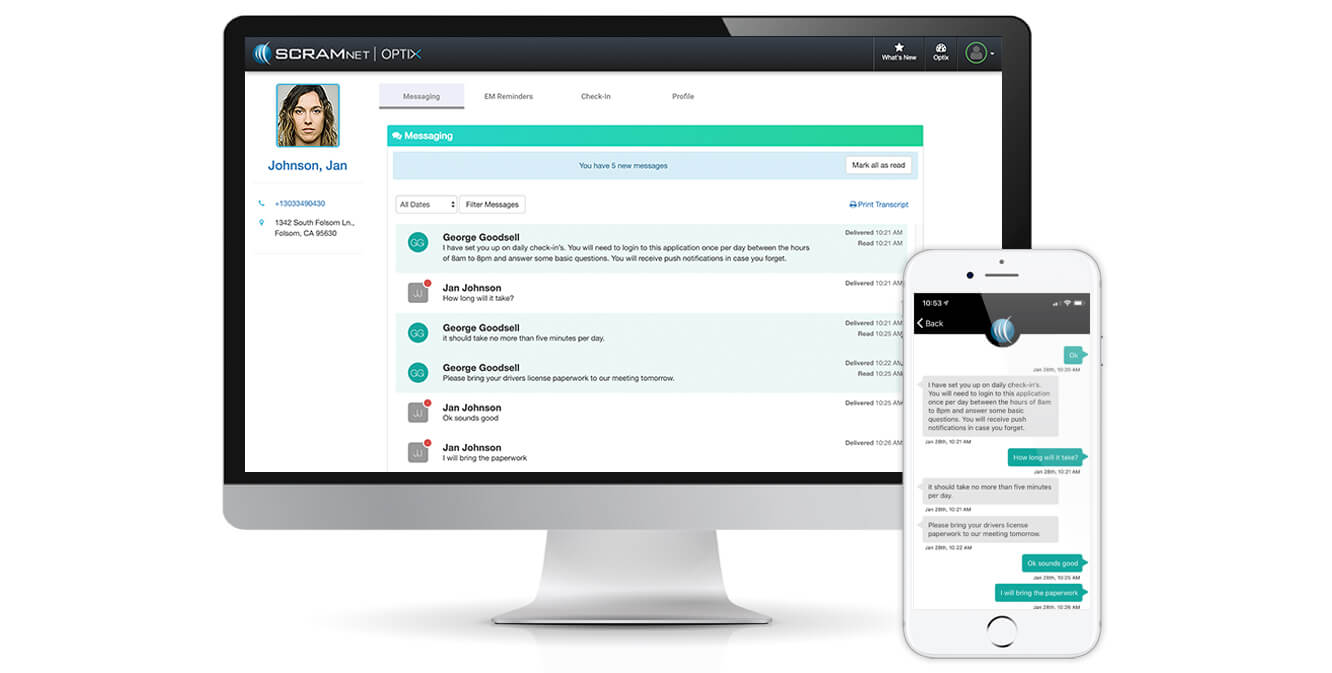 Message Archiving grants agents and officers the ability to access past messages in a secure format. With a single click from the SCRAM Systems dashboard, agents can send messages directly to individual clients and receive read receipts documenting when messages are opened and viewed. In addition, saved message history, print capabilities, and shared messaging permissions help agents easily manage client communications across workloads and caseloads.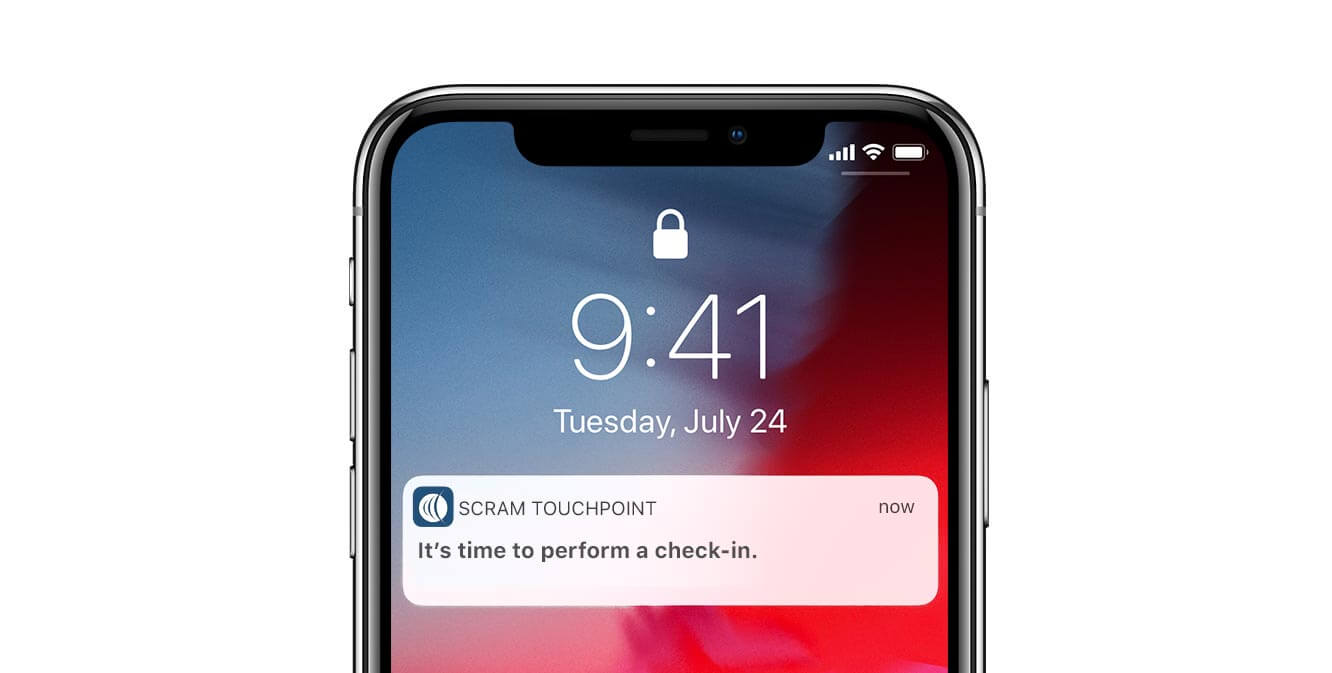 Automated Client Alerts are sent to the client's phone every time a check-in window opens, resulting in increased compliance. This feature also allows agents to spend more time on tasks that matter most.
By introducing this technology into curfew management, SCRAM TouchPoint provides a low-cost way for community corrections programs to increase their effectiveness while allowing clients to successfully complete the terms of their supervision.