For pretrial, probation, and parole clients under community supervision, one common point of noncompliance revolves around proper electronic monitoring (EM) device upkeep—making it the officer's job to constantly stay in contact to remind clients to charge their device, upload their device data, or make an appointment with their supervising officer.
But with the SCRAM TouchPoint® mobile app, clients using SCRAM Systems alcohol and location monitoring devices are automatically sent routine EM device notifications directly to their smartphone, helping increase client compliance and removing the need for officers to intervene.
Helping Clients Achieve Their Supervision Goals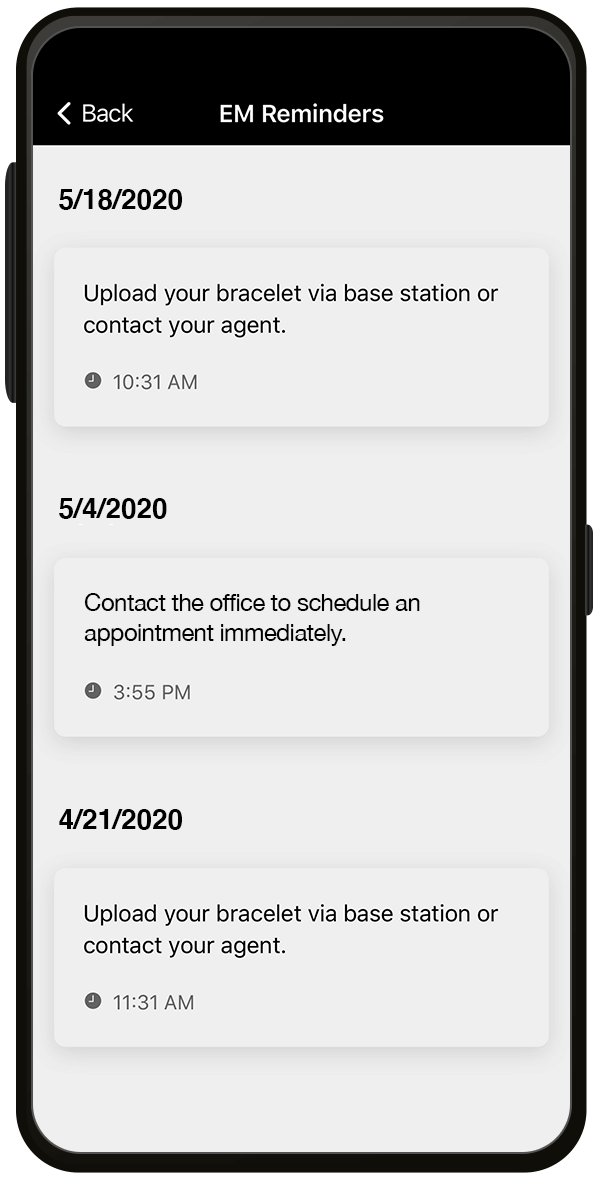 The TouchPoint client engagement mobile app provides reminders within the app and push notifications to a client's smartphone alerting them to take action with their SCRAM Systems monitoring, such as when it's time to charge their device, schedule a maintenance appointment, or connect to their base station.
With automated reminders sent directly to clients, they can achieve better compliance with their electronic monitoring usage. These notifications may also help clients more easily meet the terms of their supervision, increasing the likelihood of successfully completing their pretrial, probation, or parole period.
By providing clients with just enough information to perform a positive action (like charging their device instead of letting the battery deplete and getting into trouble), EM notifications can give clients the opportunity to make constructive decisions with their monitoring—putting their success in their own hands.
Significant Time Savings for Officers
Not only do automated reminders help increase client compliance, but TouchPoint's EM notifications may also free up time for officers, so they can focus on the alerts and tasks that matter most. Once clients begin to receive electronic monitoring notifications, officers no longer have to call clients about routine EM tasks, leave them messages, and risk being ignored—equating to significant time savings depending on the size of the officer's caseload.
Internal time studies have shown that when using TouchPoint's EM notifications, officers can save an average of 42 minutes per client per month. For example, an officer with a caseload of 35 electronic monitoring clients could save about 25 hours (1,470 minutes) of time per month, and about 300 hours (17,640 minutes) over the course of a year.
By leveraging technology used every day and transforming it into a valuable tool for community corrections departments, officers can streamline their day-to-day monitoring tasks and spend more time helping their clients succeed. SCRAM TouchPoint's electronic monitoring notifications can give back time to busy officers and provide a modern way for clients to successfully meet the terms of their supervision.
Resource Savings
TouchPoint's EM reminders can save officers:

31 min/client/month for SCRAM CAM® clients
43 min/client/month for SCRAM Remote Breath® clients
47 min/client/month for SCRAM House Arrest® clients
51 min/client/month for SCRAM GPS® clients
An average of 42 minutes per client/per month

Removes the need for officers to contact clients for routine EM task reminders
Improves compliance and helps clients complete their supervision terms