With increasing pressure to do more with less, community corrections departments across the country are harnessing the power of technology to streamline day-to-day tasks and improve client engagement. Probation and parole officers are using mobile technology, for example, to monitor and check in with their clients.
The SCRAM TouchPoint® remote check-in feature can not only save time for officers but also helps increase client compliance.
Streamlining Client Check-In
TouchPoint's mobile check-in feature enables clients to complete scheduled or on-demand check-ins right from their smartphone so officers can verify key client information anytime, anywhere. During the check-in process, clients answer a series of questions configured by their supervising officer such as status of health and well-being, changes to current residence or employment, and interactions with law enforcement.
And, prior to their mobile check-in, clients are required to provide a successful fingerprint or facial identification as supported by their smartphone. Then, TouchPoint's built-in facial authentication software automatically reviews and compares their check-in photo to a library of matched photos, verifying their identity with 98-99% confidence. A GPS location point is recorded with every check-in, giving officers additional insight into a client's response and whereabouts.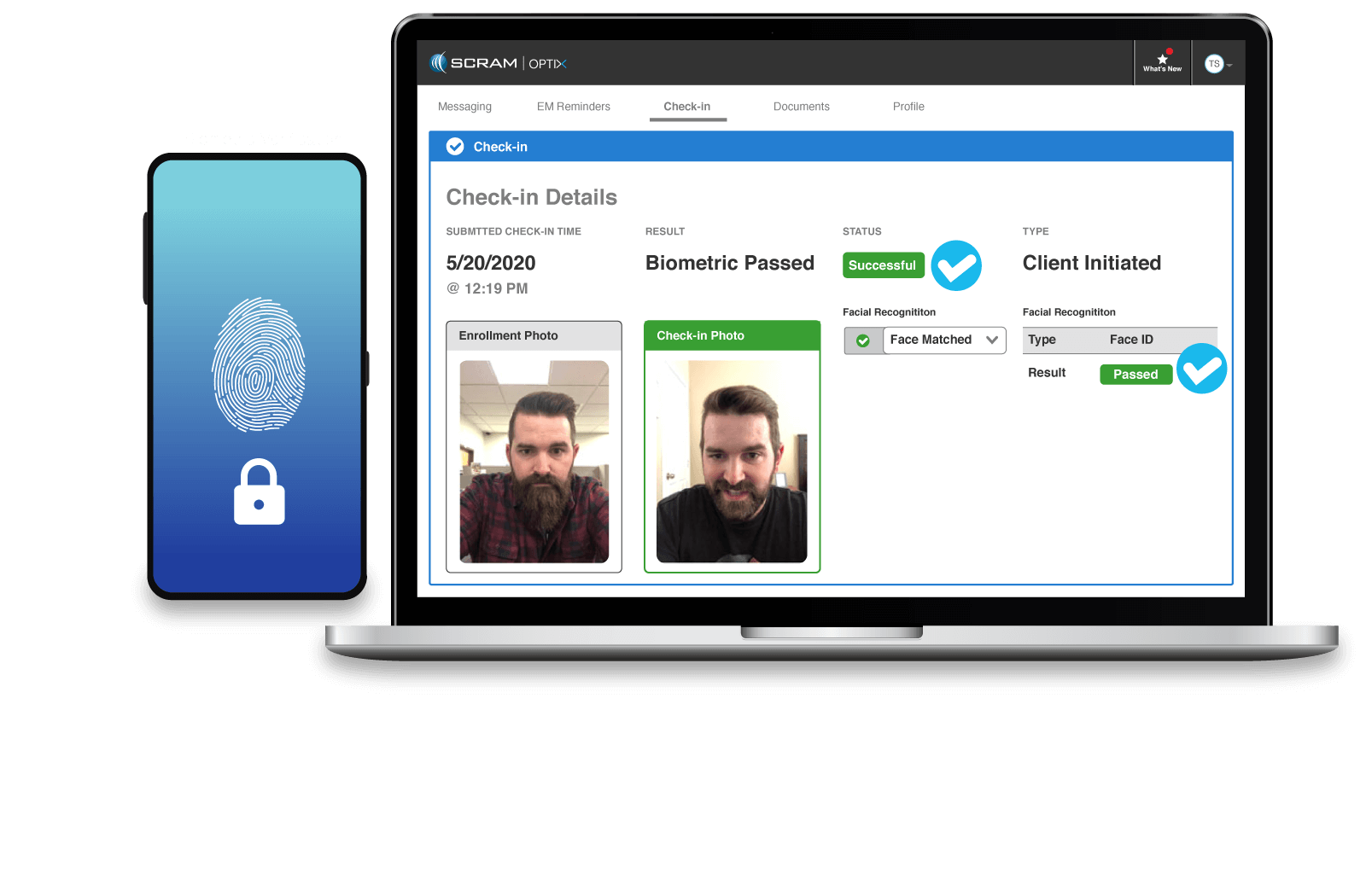 Significant Time Savings for Officers and Clients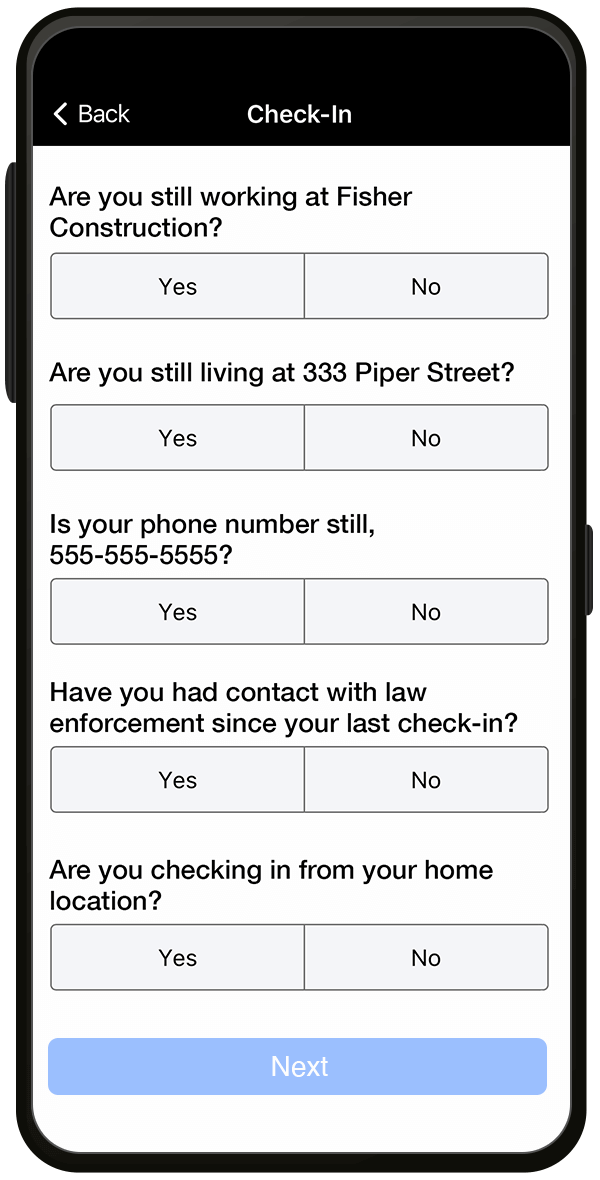 Traditional client check-ins—including in-person, at designated kiosks, by phone call, or via mailed postcards—can often be time-consuming and cumbersome for both the officer and client. With TouchPoint's remote check-in feature, officers have immediate insight into a client's whereabouts and how they are progressing with their supervision terms. Instead of transcribing voicemails, tracking down client notes, and transferring data to case management systems, officers can view this information all in one place and take action quickly if needed.
Through the mobile app's customizable questions, two-layer client authentication, and GPS location points, these check-ins become verifiable records, reducing the need for supervising officers to listen to voicemails, check emails, and take phone calls. This can equate to significant time savings for officers, as they replace these time-consuming tasks with a simple TouchPoint check-in review.
Resource Savings
Significant time savings for officer and client:

Average client remote check-in time: 104 seconds
Average officer review time: 146 seconds

With a 2.5-minute remote check-in, officers can gather as much information on their clients as they typically would during an hour-long office appointment
Removes the need for clients to travel or pay for transportation to kiosks or other check-in locations
In addition to administrative time savings, corrections departments may also appreciate the health benefits of using TouchPoint's remote check-in feature. The mobile app removes the need for in-person contact, providing officers the ability to attain the same level of supervision. This has been particularly useful during the COVID-19 pandemic. With the ability to digitally exchange crucial data, officers and clients can remain socially distanced while completing the terms of their supervision.
The TouchPoint mobile app provides greater flexibility and check-in options for community corrections departments. With the app's mobile check-in feature, officers can experience a variety of time, cost, and resource savings while streamlining client monitoring and increasing client engagement.
Resource Savings
Reduces the need for officers to transcribe voicemails, check emails, and transfer data to case management systems
Digital exchange of data allows officers to connect clients with necessary treatment more quickly
Remote check-ins are socially distanced and COVID-19 safe
Streamlines and simplifies the client check-in process
Prior to using TouchPoint, our clients had to call in with us every day and leave messages. We would come into dozens of messages. The best thing about the app is that clients can take their selfie, get their location, and take a look at them and see if they look any different than the day before. It's almost like you're seeing them every day.

Sgt. Steve Zaim, Middlesex Sheriff's Office, MA