A recent poll commissioned by SCRAM Systems has discovered that 97% of the Scottish public are concerned about alcohol-related crime—a proportionately higher rate than the UK as a whole, measuring at 93%.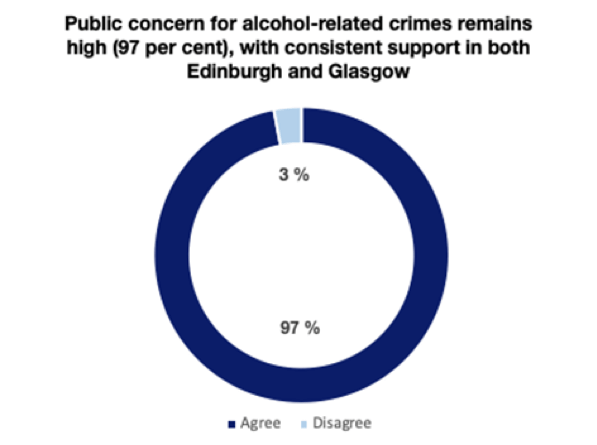 Those that are most concerned about alcohol-related offending include women (98%) and those aged over 55 (98%). Additionally, both Edinburgh and Glasgow revealed high levels of concern about crime in which alcohol plays a significant role, both polling at 97%.
This level of concern is unsurprising given that alcohol is a key driver of offending behaviour. In Scotland, this is particularly the case for young individuals, where 60% are drunk at the time of their offence. Overall, alcohol plays a part in 42% of violent crime in Scotland.
How Does the Public Want to Address Alcohol-Related Crime?
So, what do people think should be done to address alcohol-related crime? Over nine out of ten of Scottish voters (93%) support the use of sobriety tagging to tackle such offending.
Some of the options currently available include fines, prison, community sentences, curfews, other restrictions on movement, and community payback (unpaid work). However, sobriety tags provide a unique opportunity to directly address a core factor of the offending behaviour, whilst providing a punitive sanction that also serves to change future behaviour. This is achieved through enforced compulsory sobriety that is monitored 24/7 with the use of the sobriety tag.
Public support for sobriety tags was high when compared to the alternative aforementioned options; 66% see sobriety tags as an effective sentencing method to reduce and prevent alcohol-related crime, followed by 51% for restrictions on movement, 42% for curfews, 38% for community sentences, 28% for prison, 23% for restorative justice and 22% for fines.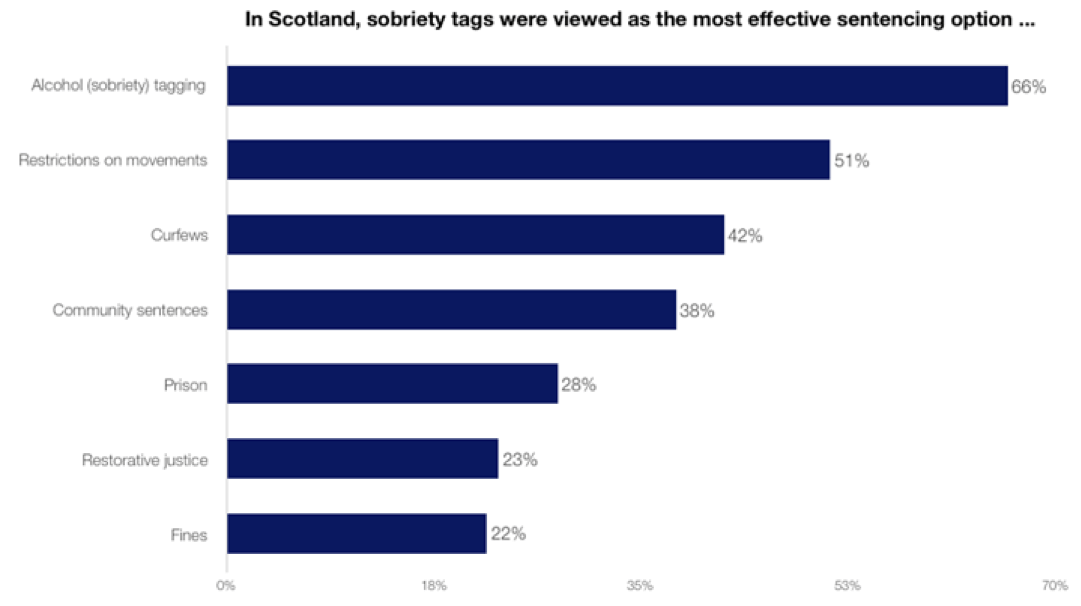 Strong Scottish Support for Sobriety Tagging
Given such high levels of alcohol-related offending, heightened public awareness and support for more tailored sentencing solutions are welcome. In fact, 88% of the Scottish public support the use of sobriety tags for individuals being released on licence for alcohol-related offences.
As part of Hollyrood's ongoing efforts to progressively reform the Scottish criminal justice system, there is a clear opportunity for the Scottish Government to make use of alcohol abstinence requirements and effective, evidence-led alternatives to custody.