Many community corrections departments are adopting and applying evidence-based practices (EBP) into their day-to-day supervision tasks and experiencing positive results. But with a lack of data and analytics, how can departments know if all clients are being treated equally, or if disparity among different demographics is occurring?
Community corrections departments are turning towards technology and software to collect consistent data that can help them evaluate common supervision practices. The SCRAM Nexus® software platform provides powerful analytics that allows supervision officers to view and measure potential disparity and examine if implicit bias is affecting client and agency outcomes.
A Deeper Look at Disparity
Studies on probation practices have found disparities in parole violation charges, revocation, and returns to prison based on client race, age, and more. Disparities in client treatment and incentive and sanction responses—whether intentional or not—may cause clients to regress and continue to partake in criminal behavior. Demographic differences between clients often play a role, but corrections departments generally have no way of identifying or measuring if such disparities are taking place.
SCRAM Nexus' advanced analytics can show which clients are receiving what incentives or sanctions so supervisors can dig into demographic data to see how groups of clients are being treated—from districts down to a specific supervising officer level. This type of valuable information can help agencies examine the decision officers are making when responding to client behavior, and whether intervention is appropriate.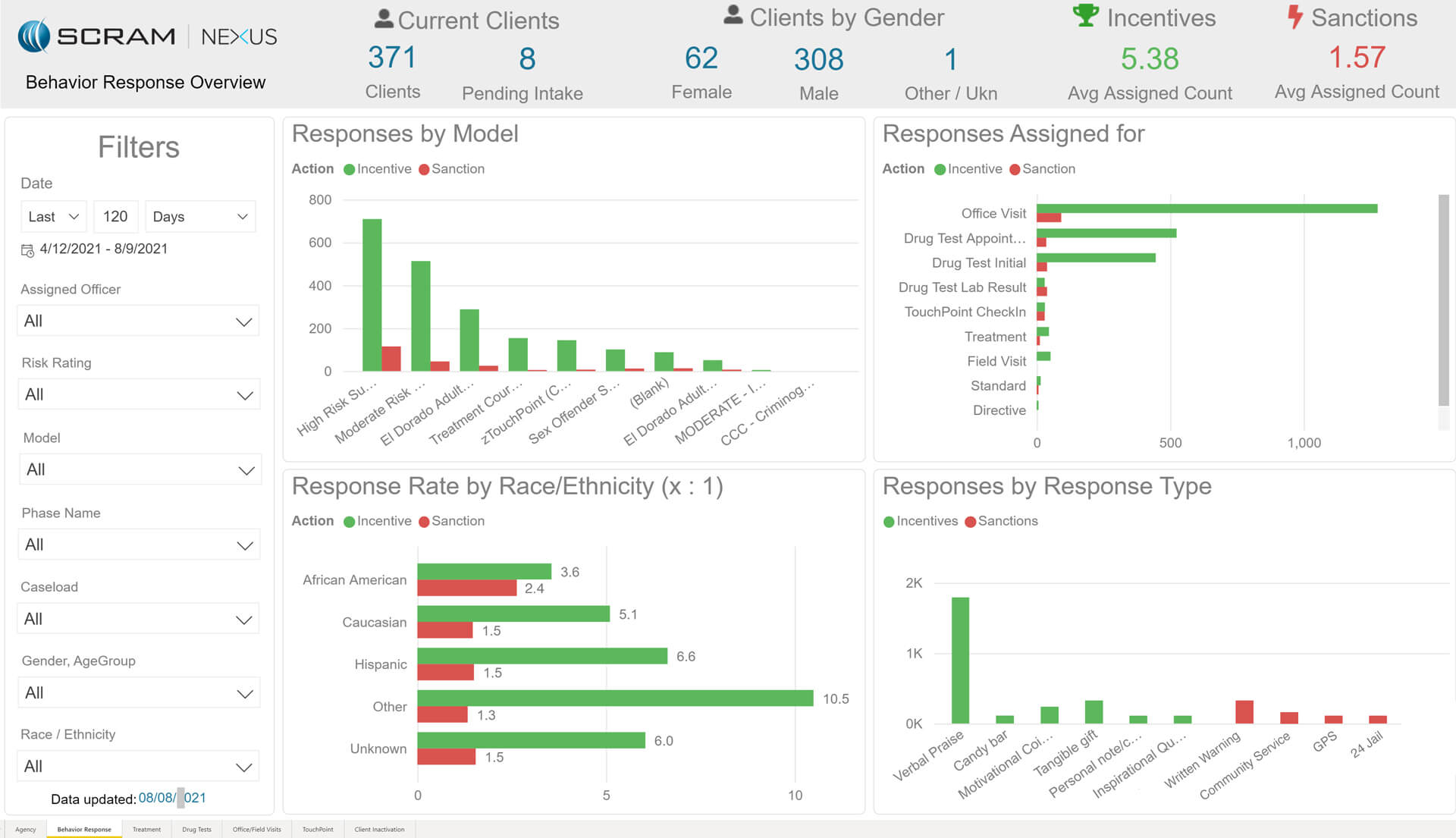 These powerful analytics also provide objective data that can help coach systemic and individual change within corrections departments and uncover how bias may be playing a role in responses to client behavior. Nexus helps guides officers to appropriate responses, so they can better practice "procedural fairness" and ultimately repair trust with justice-involved individuals.
Certainty and Fairness of Responses to Client Behavior
Sometimes, officers may choose to not address a client's positive or negative behavior. However, this decision to skip a potential opportunity to reinforce behavior change is rarely documented. Traditional case management systems require this data to be entered in manually, quickly adding to an officer's workload.
Without the information on behaviors that were not addressed, departments may struggle to understand whether officers are giving swift and certain responses—the core elements of effective behavior change. Officers may be limited in their view of which types of clients may have consequences forgiven or incentives ignored. Without proper documentation, it is almost impossible to measure how these factors have affected a client's progress.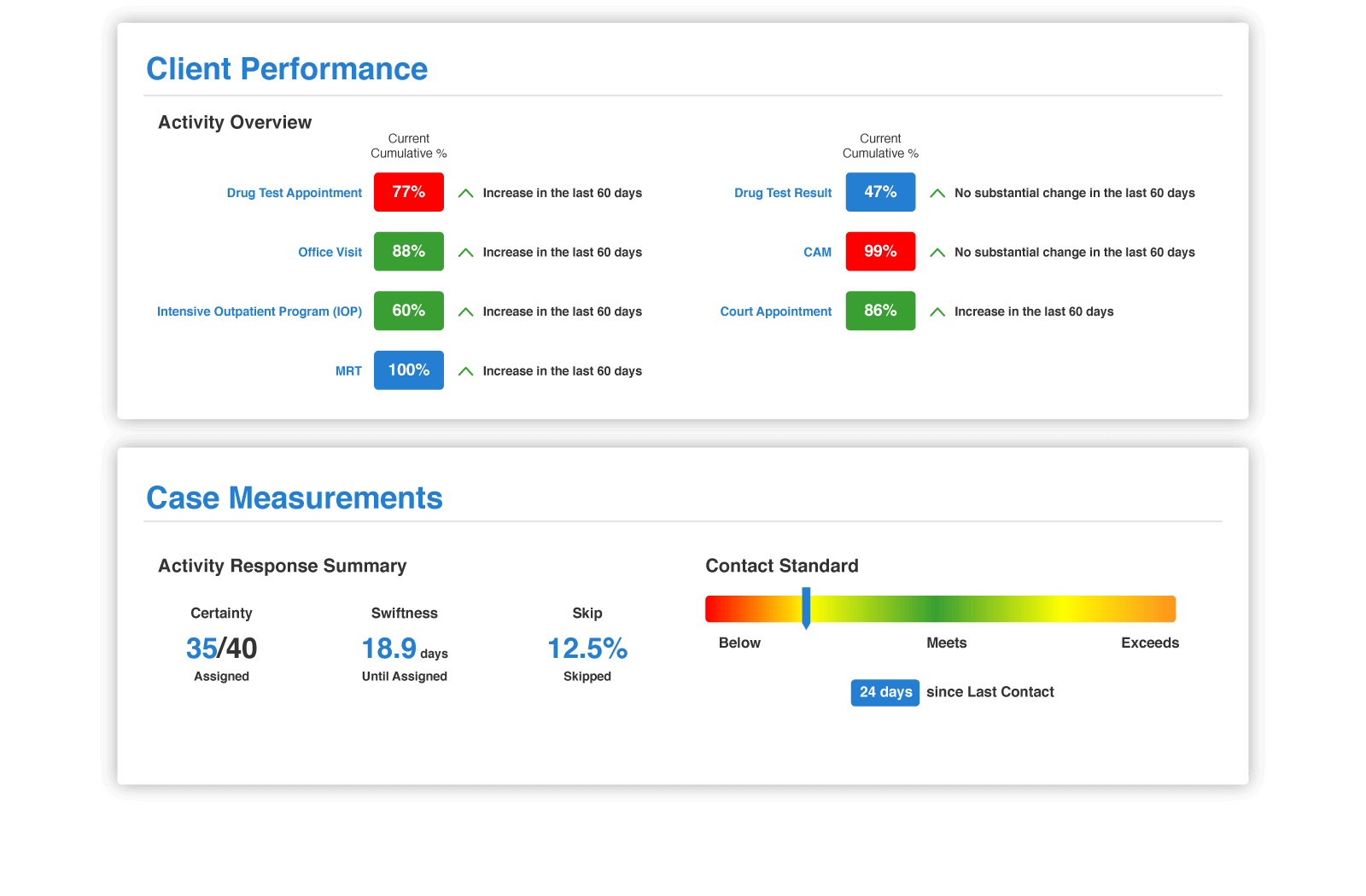 But Nexus can populate this data so officers can see the full picture and determine if disparity towards any client is happening. The software platform also automates behavior notifications and response recommendations in a way that shows when and what incentives and sanctions are being "skipped". By understanding individual officer and agency-wide responses, Nexus offers important data that can be benchmarked against departmental policy and best practice expectations to establish what is working and what isn't.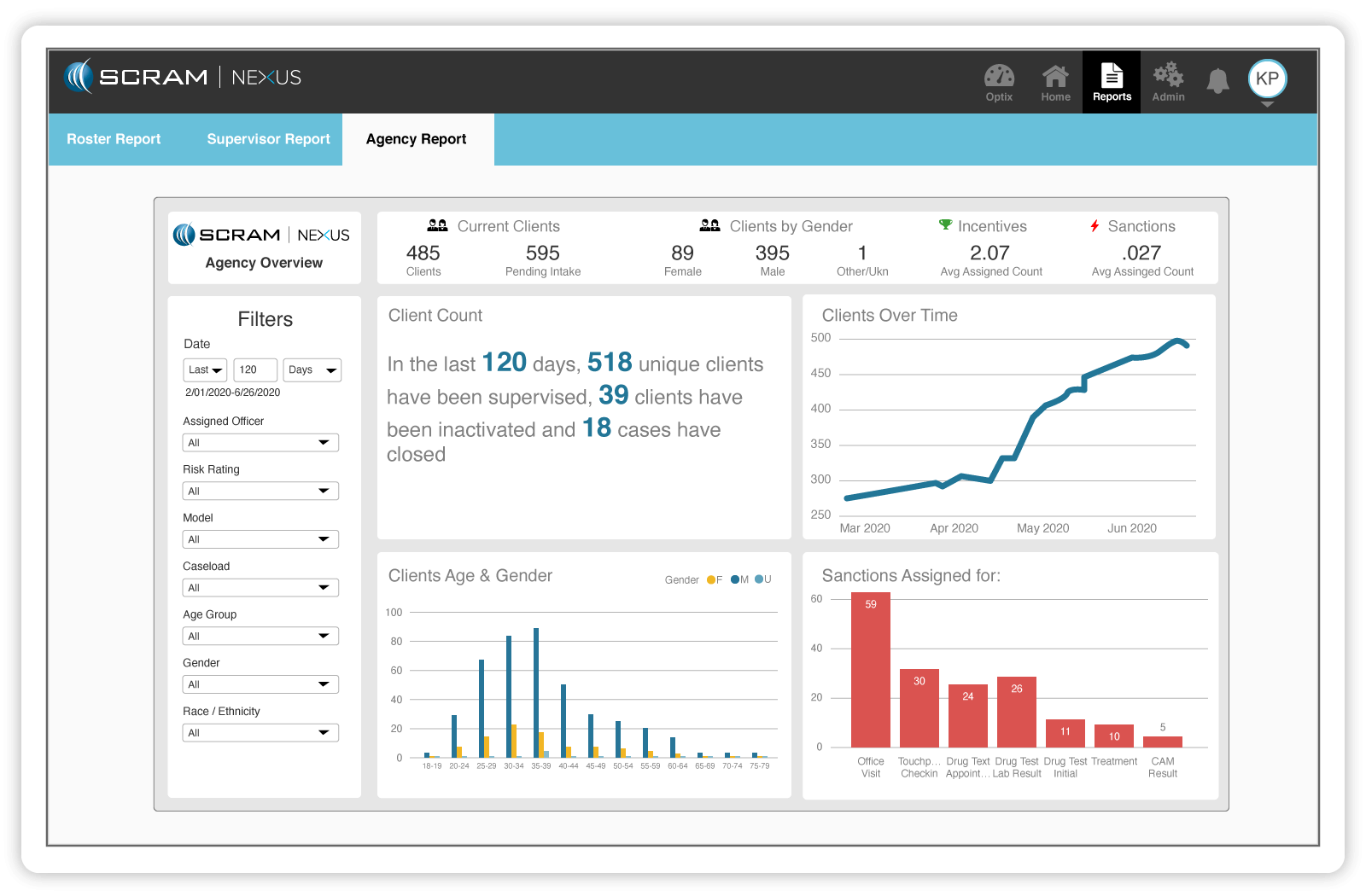 Unprecedented Data to Justify EBP Investments
Nexus delivers forensic data analysis that is easy to use and understand without requiring researchers or analysts to gather such data. The software platform also removes the need for corrections departments to hire consultants or experts to interpret data, so agencies have a fully transparent view of how each staff member and client are performing and where improvements can be made.
With community corrections departments investing money, time, technology, and other resources into implementing EBP, how can agencies be confident in their efforts? Nexus' powerful analytics can provide objective data to justify these investments and confirm that the evidence-based practices that have been put in place are working to reduce disparity within responses to client behavior.