Modern-day community supervision faces constant challenges—budget constraints, increasing officer responsibility, growing caseloads, and more. With these obstacles, it's more important than ever that departments utilize technology to apply evidence-based principles to client intake processes. Research has shown that the quicker clients can move from sentencing to active supervision, the more likely they are to succeed.
New technology is helping combat these challenges to make officers' day-to-day tasks easier and help probation and parole departments effectively integrate evidence-based practices (EBP) into existing policies and procedures. SCRAM Nexus® is the first-ever decision-support software tool built to enhance case management systems and guide officers through daily workflows to consistently apply EBP.
Technology is Key to Initializing a Client's Successful Supervision
Pressures have increased on community supervision as the case for prison and jail depopulation continues to build. This has left officers with a unique challenge—not only are caseloads growing, but the types of clients are becoming more diverse. With mixed caseloads of various risk levels, programming needs, and unique statutory requirements, it can be overwhelming for an officer to onboard and supervise so many clients with differing needs, expectations of treatment, and contact standards.
Nexus facilitates quick setup for client intake by compiling client data and automating the onboarding process based on department policy. Client information is organized and synthesized into meaningful insights, giving officers an unprecedented look into each individual client's progress. Nexus also takes this data and recommends treatment services that best suit the client's needs based on assessment results, ensuring that each client gets the right services for the right reasons. With the click of a button, officers can set up a calendar and referrals so service providers can initiate counseling and treatment.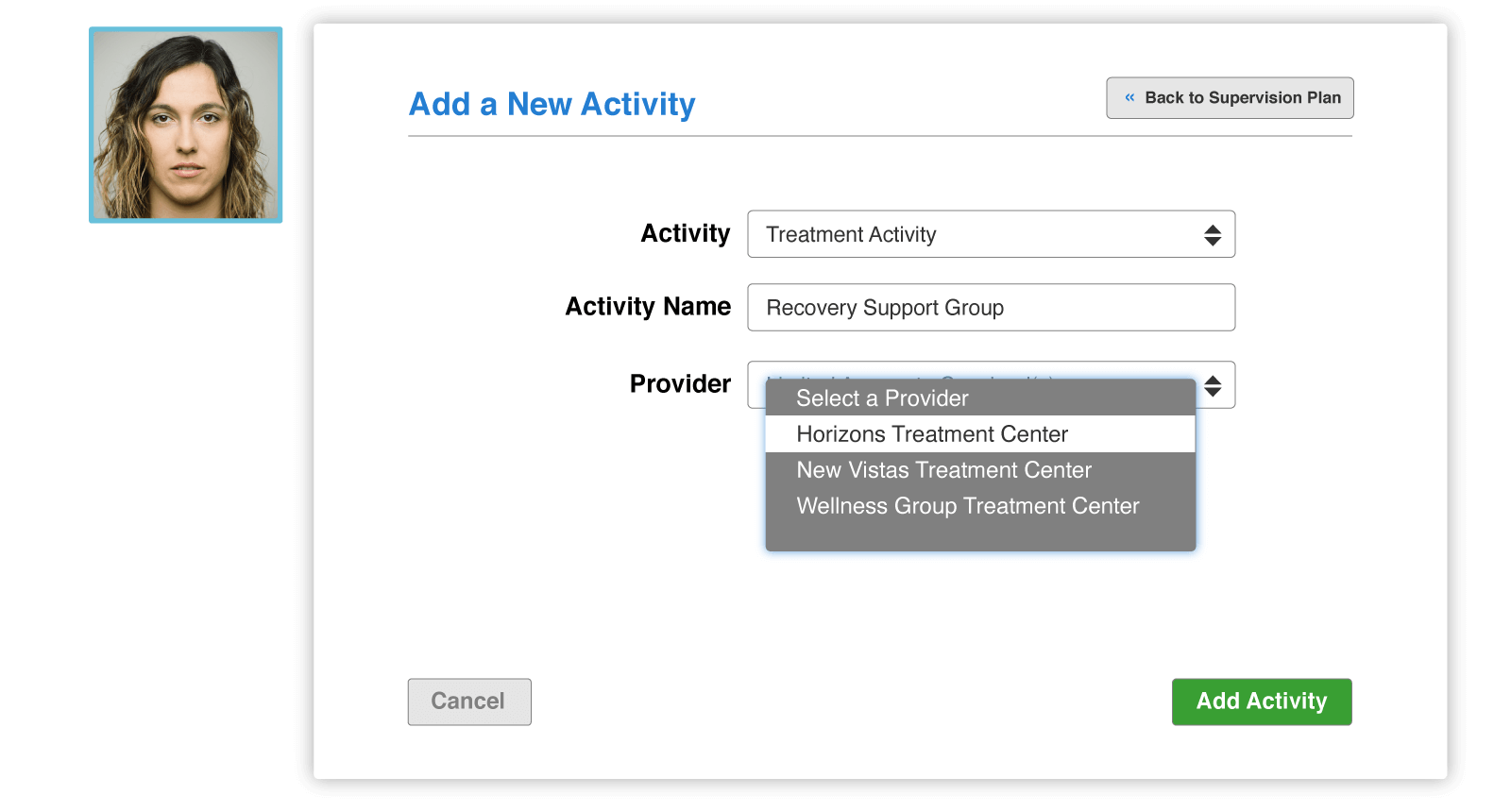 Assigning the Most Effective Supervision Plans, Automatically
Not only do growing and diverse caseloads present new challenges, but case management systems are like static electronic filing cabinets that rely on officers to be in a constant data entry role, never receiving any intelligent analysis. Oftentimes, officers must also manually search for missing data—like hunting for paper notes, sending emails, or making phone calls—making collecting client data a time consuming and tedious process. This leaves room for error and makes assigning the proper evidence-based supervision model to each unique client demanding.
By compiling and analyzing client data, the Nexus platform automatically recommends supervision models proven to be the most effective based on the client's circumstances. In a fraction of the time, officers can assign an appropriate supervision plan based on EBP and current departmental policies, tailored to a client's unique risk and need. After sentencing, rapid engagement of clients is often hindered by administrative workflows, but with the support of Nexus automation, this process is reduced to minutes and enables clients to quickly start services during their most critical phase of supervision.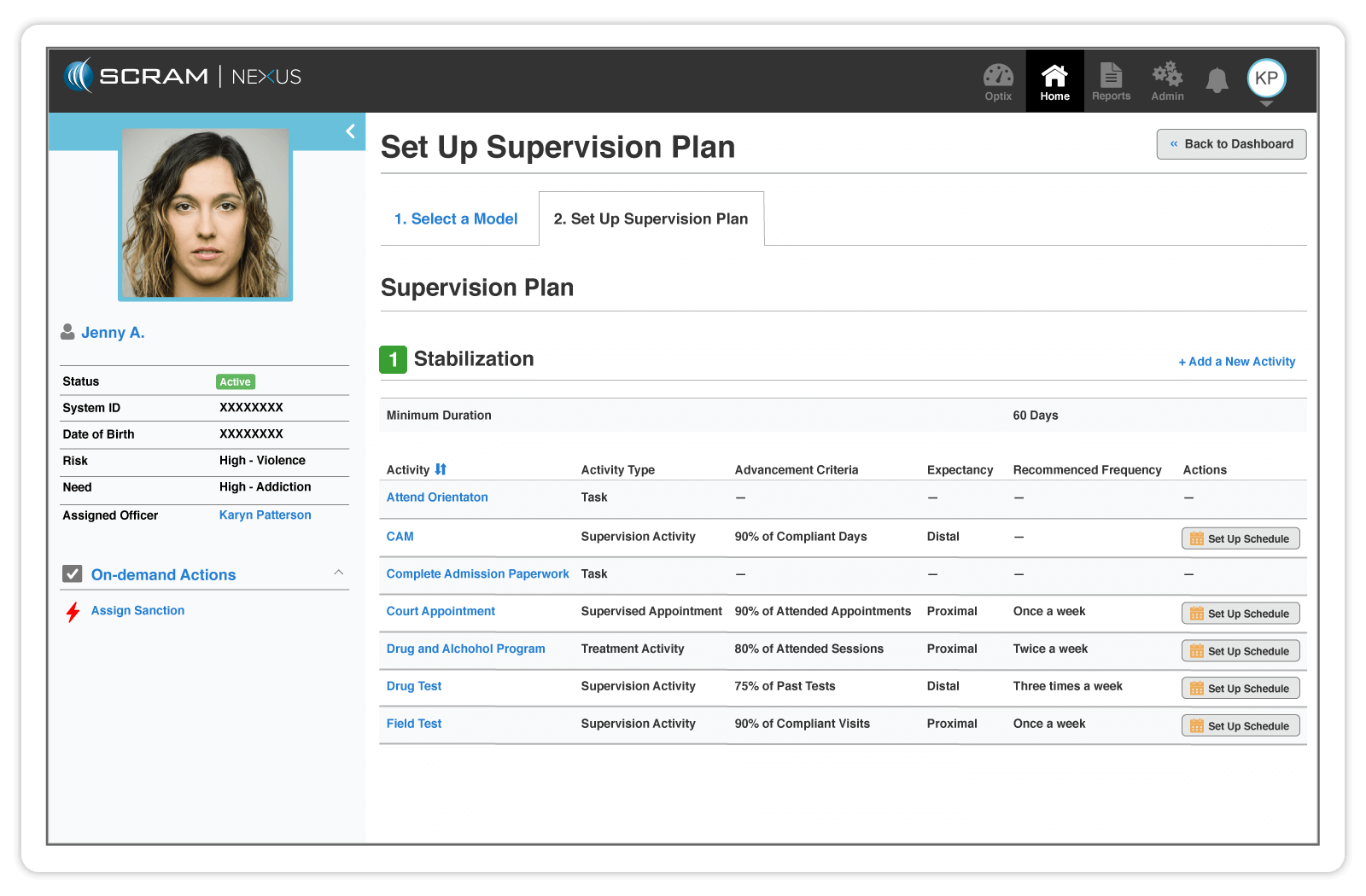 Starting Client Supervision on the Right Foot
While Nexus provides unique automation and administrative efficiencies during client onboarding, the foundation of its supervision recommendation is based on best practices and agency policy. Nexus ensures each client receives a unique and effective supervision plan, providing officers and their supervisors the added peace of mind that clients are getting the properly prescribed programming from the start.