Dr. Doug Marlowe Discusses How Automation Can Improve Adherence to Evidence-Based Practices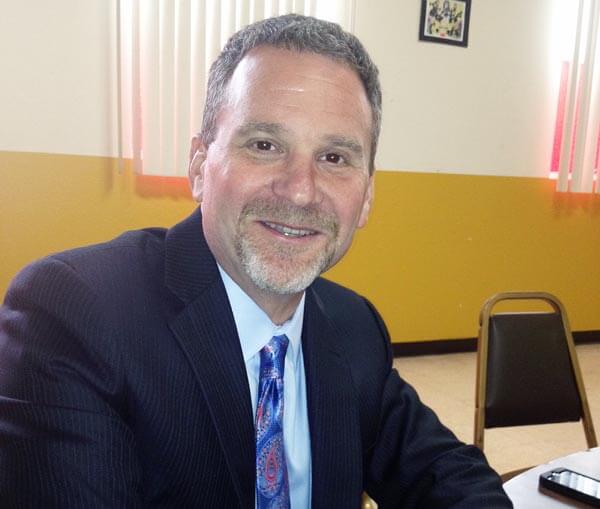 Dr. Doug Marlowe is the Senior Scientific Consultant for the NADCP and Senior Science and Policy Advisor for SCRAM Systems. He has published over 175 articles, books, and chapters on the topics of crime and substance abuse and has studied behavioral treatments for substance abusers and justice-involved individuals.
The policy landscape for community corrections is rapidly changing. Supervision officers are being pressured to do their jobs faster, more efficiently, more effectively, and with fewer resources in order to keep up and adhere to new policies and policy changes. This means intaking clients, enrolling them in appropriate services, delivering consequences, and monitoring progress more quickly than ever. But how can corrections departments achieve this, all while implementing evidence-based practices into day-to-day decision making?
In a recent webinar, Dr. Doug Marlowe explained how software tools and automation are the key and are making this possible for community corrections departments across the country.
What is Evidence-Based Decision Making?
Years of behavioral research have uncovered the components that make up the most effective community corrections programs, and evidence-based practices (EBP) embody the core of this research. EBP combines empirical research with client behavioral data to guide officers in the decision-making process and have the greatest positive impact on client success.
Evidence-based decision making depends on when, how, and to whom services are being delivered. It's important that supervision is matched to a client's risk-level and treatment and other services are matched to their need-level in order to achieve true behavior change. Responsivity, which includes the order and timing of services, is also essential when applying EBP to community corrections practices.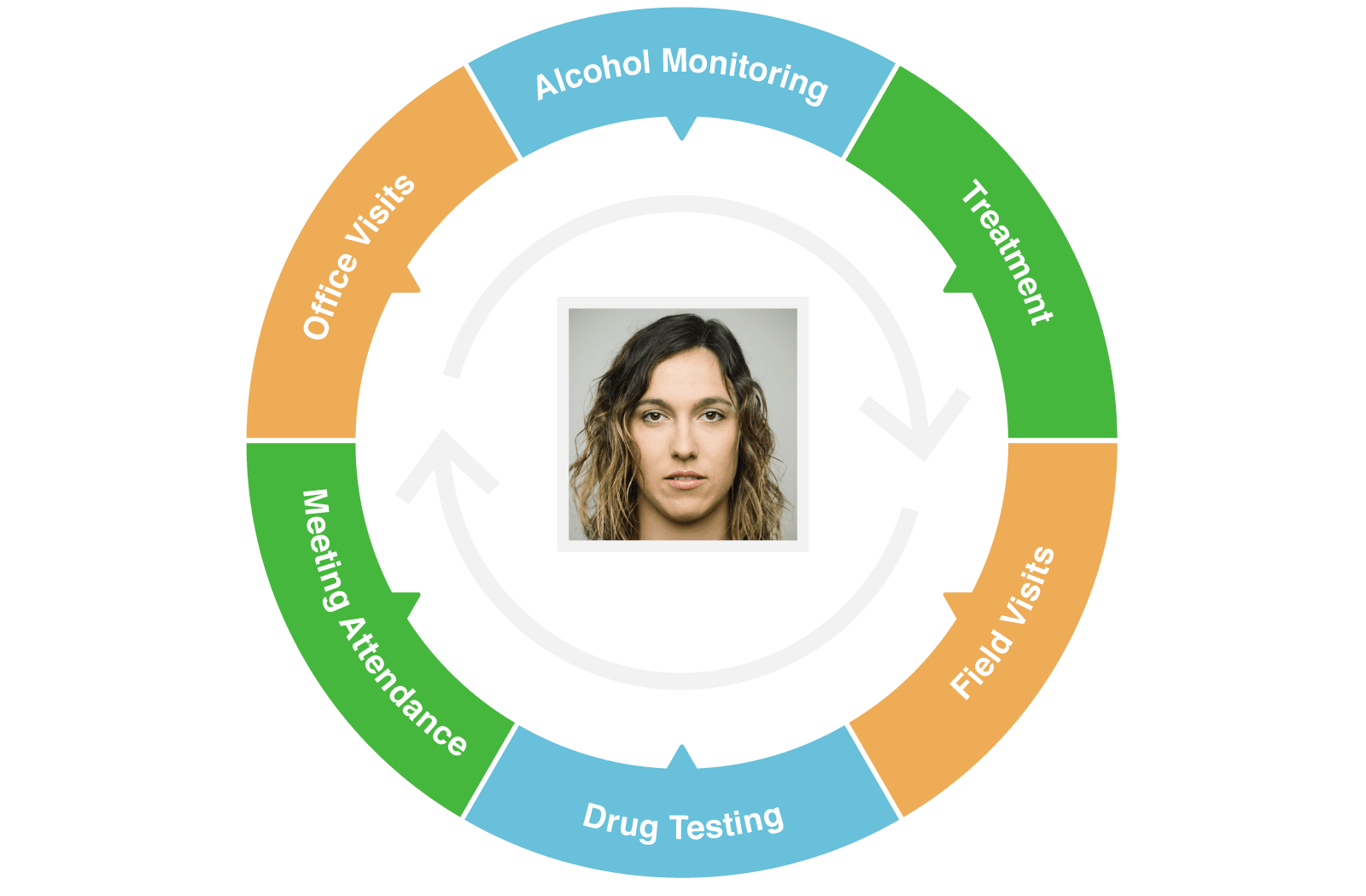 Another critical component to evidence-based decision making is the certainty and swiftness of responses to a client's infractions and accomplishments. Effectiveness declines substantially if responses are delivered past two weeks of the behavior, especially with high-risk and high-need individuals. The magnitude of responses is another important variable to client success—when the severity of responses appropriately matches a client's behavior, they are more likely to reach behavioral goals.
According to Dr. Marlowe, when corrections departments properly implement and follow evidence-based decision making, they could experience an average of 14% reduction on crime and a net-cost benefit of $13,000 per client over the course of two years.
Why Community Corrections Needs Automation
With so many variables to successful evidence-based decision making, community corrections departments need a way to track all aspects of officer and client interaction and progress, and automation is the key.
Software tools, such as SCRAM Nexus®, can provide automation every step of the way from client intake to department and officer performance. The Nexus platform recommends appropriate treatment and supervision models based on departmental policy and a client's risks and needs to determine what services to deliver in the optimal order to achieve the best client outcomes.
Nexus incorporates behavioral research when suggesting the proper magnitude of responses and helps determine when client behavioral goals have been mastered, changing and matching responses accordingly. Through data and visualization, the software helps advance clients through the phases of their case plan based on their behavior and surfaces actionable items for officers so they can spend more time engaging with clients and less time on administrative tasks.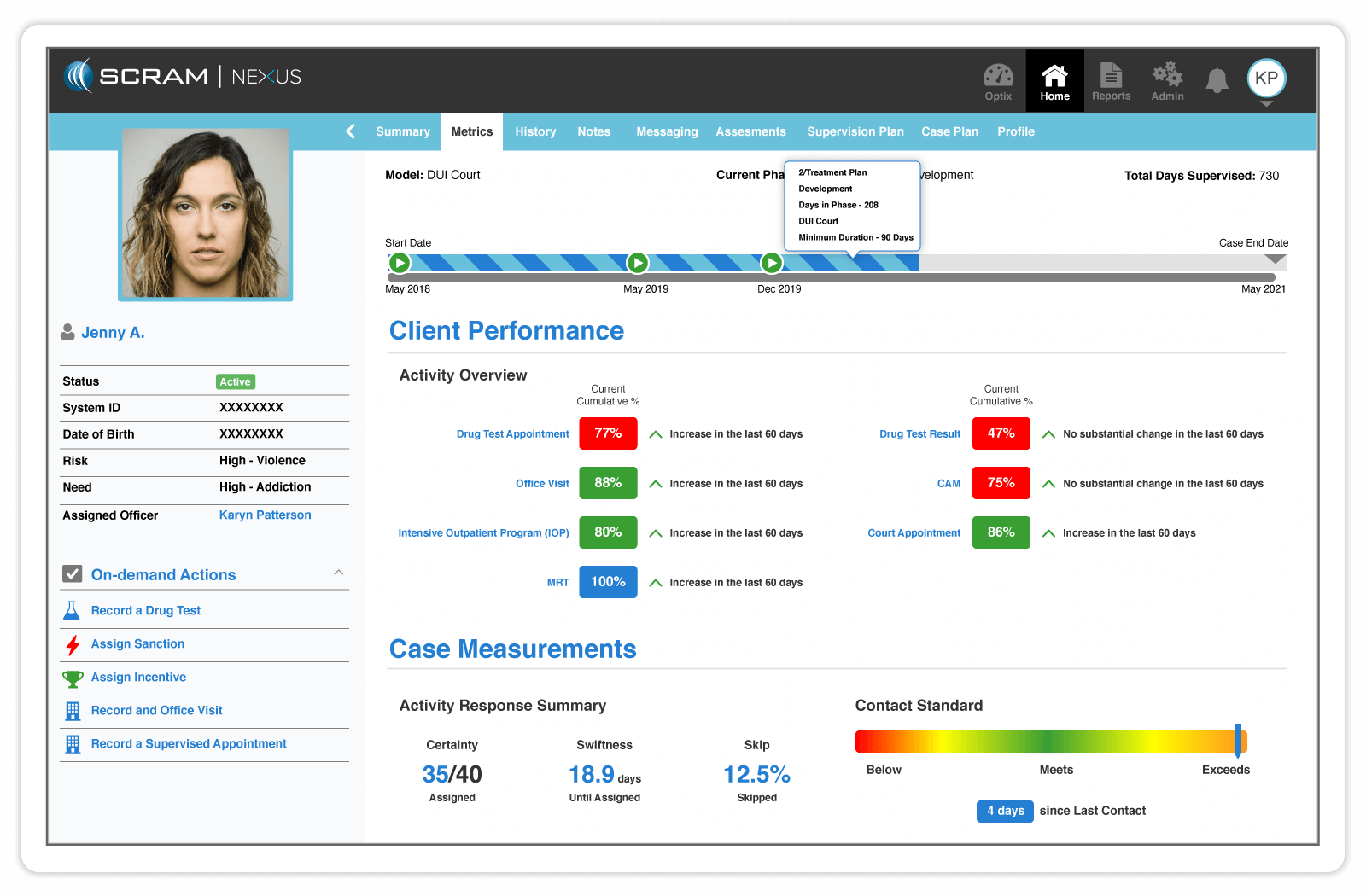 Nexus captures and reports data and KPIs of services delivered, as well as the certainty, swiftness, and magnitude of responses. This information enables corrections departments to easily measure EBP adoption. Corrections departments can also use this information to generate data and reports on client outcomes for supervisors and stakeholders, so they can adjust policies accordingly.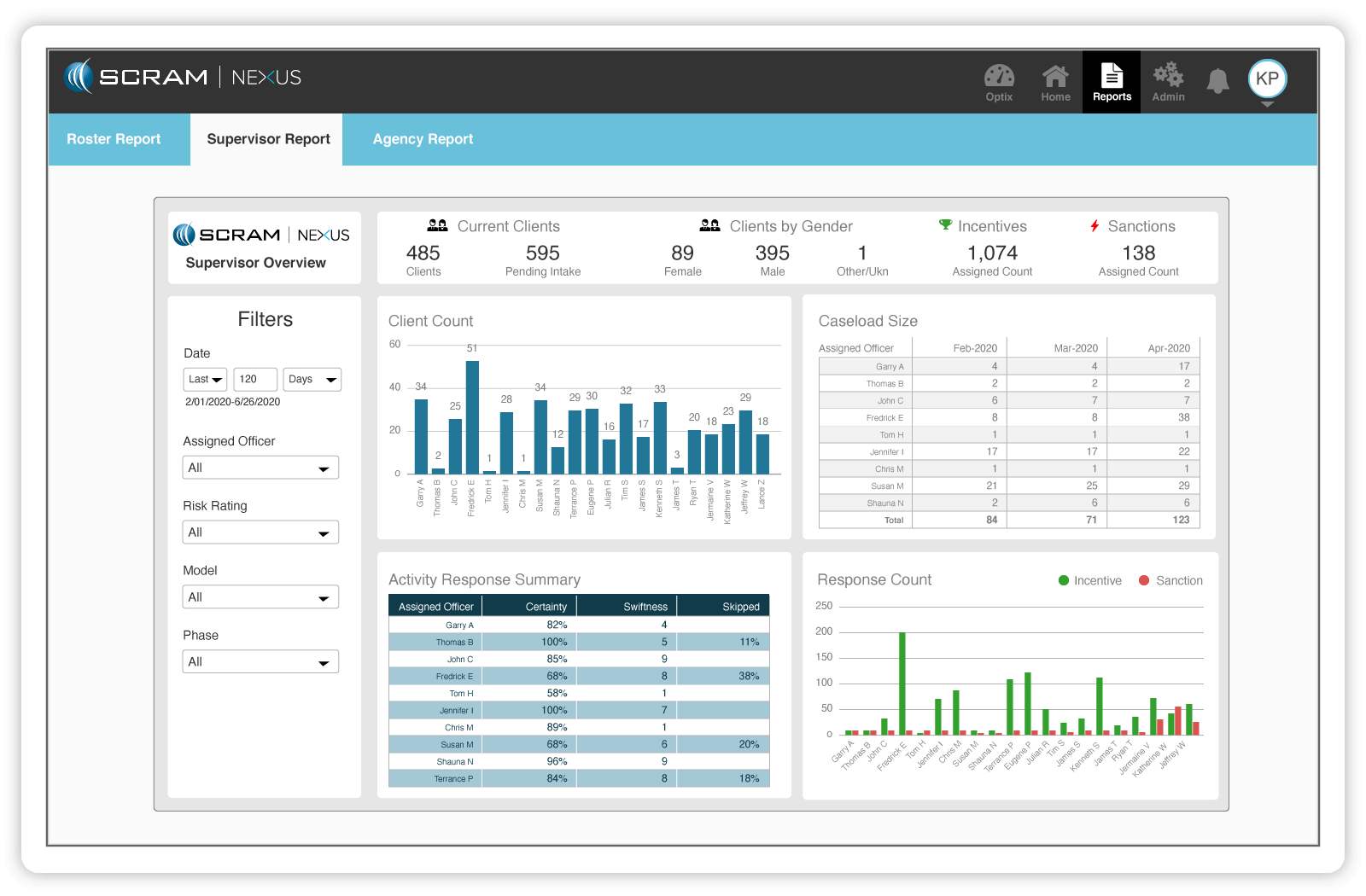 With the use of software tools like SCRAM Nexus, community corrections departments can more effectively implement EBP into existing policies and save valuable resources so they can focus on the most important tasks and promote behavior change through more meaningful client engagement.
Watch On-Demand Webinar
In Dr. Marlowe's presentation, he explains how automation can help community corrections departments accomplish adherence to evidence-based decision making for better client engagement and improved outcomes.
Watch the webinar to learn more or skip ahead to the sections below.
4:30 – Policy Landscape
12:00 – Evidence-Based Decision Making
30:00 – A Day in the Life of a Corrections Officer
35:50 – Why Do We Need Automation?
39:00 – Reporting and Analytics
42:00 – Q&A