Configuring the proper exclusion zones is integral when monitoring GPS clients, as it determines where these clients are not allowed to enter. This could be due to the type of offense, a restraining order, or other constraints set forth by law enforcement.
With the new "Schedules" feature for SCRAM GPS®, officers have more flexibility when setting up client exclusion zones.
New "Schedules" Feature for SCRAM GPS Exclusion Zones
SCRAM GPS now includes a new "Schedules" feature, which gives officers the ability to create schedules and exceptions to indicate specific times clients are not permitted in an exclusion zone, such as certain hours during the day or night.
For example, if a client is not allowed to go near a victim's work location, officers can select this as an exclusion zone during the victim's specific work hours—generating alerts only during this time period. Or, if a client is not permitted to enter school zones, a schedule can be set during school hours only, so officers are only alerted of a violation when necessary, helping save officers time by reducing the need to react to unwarranted alerts.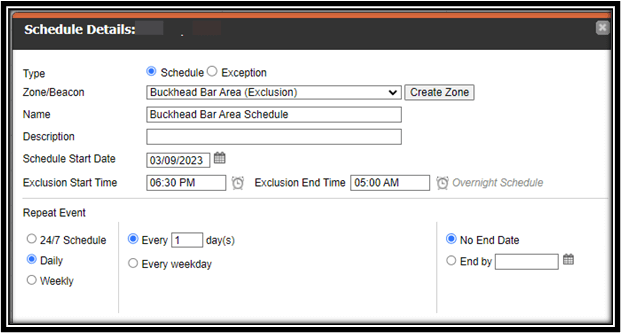 Additional Time Savings for Officers
Upon the creation of an exclusion zone, the schedule will always default to a 24/7 ban. Officers can easily add and modify schedules for a set date, time, and recurrence to customize when a client is not allowed in the specified zone. There is no limit to the amount of exclusion zone schedules a client can have and there is no need to prioritize a schedule for an exclusion zone.
If a client is allowed in a specific exclusion zone, officers can create exclusion zone exceptions so a violation is not generated.
This new SCRAM GPS feature gives officers the ability to be more specific with the dates and times a GPS client may be permitted to enter an exclusion zone—ultimately providing additional time for officers to focus on their clients and caseloads by removing unnecessary alerts.