The Ins and Outs of Alcohol in the Body
Presented by Toxicologist Dr. Leo Kadehjian
Hear from toxicologist Dr. Leo Kadehjian for an in-depth lesson on the ins and outs of alcohol: how it enters the body, how it leaves, and the methods developed to detect use.
Alcohol use has been pervasive throughout human history. Unfortunately, the adverse effects of alcohol abuse in society are all too well-known. The need for accurate and reliable methods to identify those who use and abuse alcohol has led to the development of numerous technologies using a variety of specimens, each with its own features, benefits, and limitations.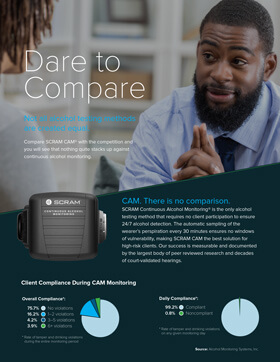 Not all alcohol testing methods are created equal
Dare to Compare
Compare transdermal alcohol testing with the competition and you will see that nothing quite stacks up against continuous alcohol monitoring.